Insta-Read BBQ Meat Thermometer for Grilling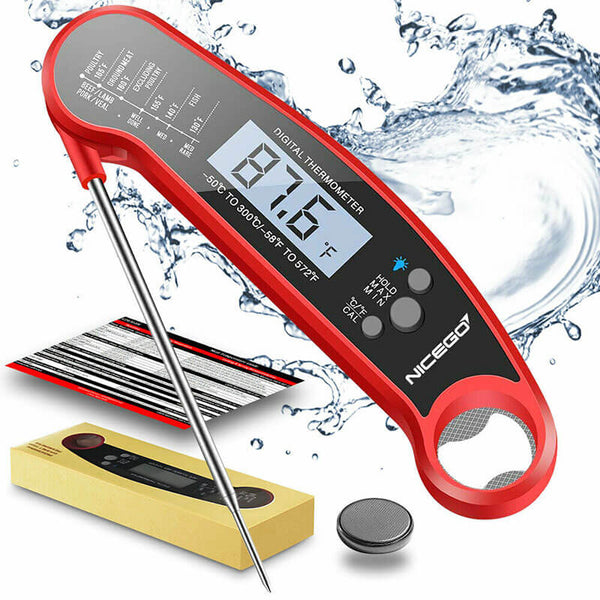 Insta-Read BBQ Meat Thermometer for Grilling
UNMATCHED PERFORMANCE! The Insta-Read digital meat thermometer is an easy and effective cooking tool to get the most accurate temperature in a matter of seconds. 
Features a 4.5" super long food grade stainless steel probe with Step-down Tip to ensure an ultra-fast 2-3 seconds response time and accurate reading (±0.9°F).
No more waiting over a hot stove or grill for the temperature to settle! 
Keeps your hands away from the heat when cooking at the grill or in the oven.
CONVENIENT AND CLEAR - Read the temperature of your meat quickly and easily thanks to the bright, large LCD screen with a backlight. With an internal magnet and large hang hole, you can conveniently store this where you can have easy and quick access!

PRACTICAL & DURABLE! Thanks to the IP67 waterproof rating, this thermometer can be washed under running water without fear! With a strong ABS plastic body, it can withstand accidental drops or other impact accidents. 
STOP SENDING GRANDMA TO THE HOSPITAL! Never again worry about ruining a steak by over or undercooking. With our kitchen thermometer, you can confidently cook any food to perfection. Nobody likes a raw chicken breast.
Start Cooking Like a True BBQ Master! Get our BBQ thermometer and start enjoying perfectly cooked steaks and burgers each and every time.

All our products ship within 24-48 hours after placing your order, from our warehouses located in the US.
We back them out with our 2-year warranty and 30-day money back guarantee and 30-day easy returns.
If you have any questions or need our assistance, please contact us at support@zeust.com or call us at 800-983-9020

I ordered this for my dad as a Christmas present. It arrived on time and has a clear display. Much quicker and easier to read than our old one!
Absolutely love this thermometer! Easy to use, love the automatic on and off and quick reading!
We are so happy to hear you live the thermometer, Nicholas! Please enjoy it as much as possible and get that meat cooked perfectly, from now on. Thank you so much for sharing your feedback with us!
Inst-Read BBQ Meat Thermometer
Since this is a Christmas gift that has not yet been opened, I cannot give feedback just yet. So I'll start with 3 stars. I will follow up once the gift has been used. Customer service so far has been great, however!
Outdoor grill light
I grill all year long and it gets dark so early during the winter months. A good outdoor durable light is a most essential tool to wonderful grilled food. So far this light has worked well.
Hello Maureen,
Thank you so much for taking the time to share your feedback with us. We are glad to hear that you are happy with the light and works well thank you for being a loyal customer.
It is our mission to provide great quality product and customer service to our customers.
If you ever need any assistance or have any questions, please don't hesitate to contact us.
Sincerely,
Dennis A.
Customer support manager, Rovyo Group
Instant read thermometer
Good value / as described. Shipped promptly.
What Our Customers Say About Us
Perfect Grill Light
First off, customer service is top notch. The grill light is perfect and lights up the entire grilling area. And it is also waterproof!
Rachel P.
Enthusiastic Customer Service!
Excellent product and consistently great and enthusiastic customer service.
Eric J.