Lifetime Warranty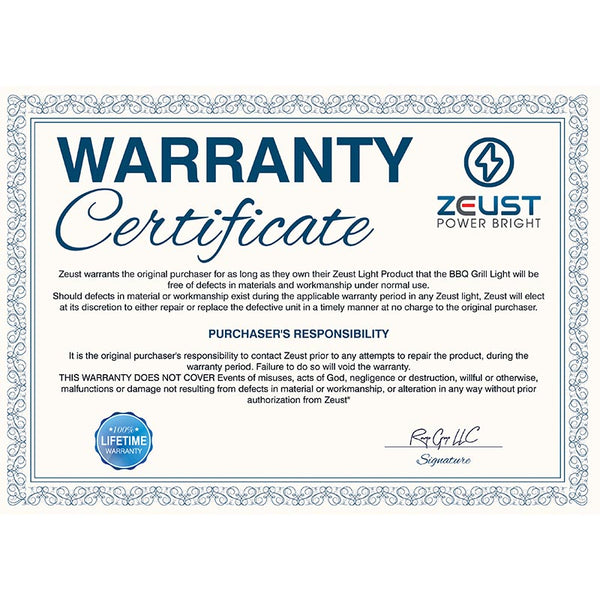 Lifetime Warranty
Zeust warrants the original purchaser for as long as they own their Zeust Light Product that the BBQ Grill Light will be free of defects in materials and workmanship under normal use. Should defects in material or workmanship exist during the applicable warranty period in any Zeust light, Zeust will elect at its discretion to either repair or replace the defective unit in a timely manner at no charge to the original purchaser.
PURCHASER'S RESPONSIBILITY
It is the original purchaser's responsibility to contact Zeust prior to any attempts to repair the product, during the warranty period. Failure to do so will void the warranty.
THIS WARRANTY DOES NOT COVER
Events of misuses, acts of God, negligence or destruction, willful or otherwise, malfunctions or damage not resulting from defects in material or workmanship, or alteration in any way without prior authorization from Zeust
All our products ship within 24-48 hours after placing your order, from our warehouses located in the US.
We back them out with our 2-year warranty and 30-day money back guarantee and 30-day easy returns.
If you have any questions or need our assistance, please contact us at support@zeust.com or call us at 800-983-9020

Long lasting
I have had this light for over 6 years! I have never once put batteries in it or had any issues. I live in Minnesota and it has seen temps from -30 to 100 and never had an issue! Great light!
Really Nice
I bought 2 of these grill lights as I have a gas grill and a griddle. Really lights up well and covers a large area. The light is on a swivel and moves easily to focus more light where you need it. I really like the on/ off switch that works with a tap.
Hi Mark,
Thank you for the kind words about our grill lights. So glad that you are happy with it. Happy grilling!
Please stop multiple email requests
I already answered that I can't review yet as One was a gift and we can't use the lights until the BBQ is not covered in snow! The Review requests are irritating. I wo t be able to Review If I BLOCK you.
I'd rather not do that but 6 requests After I explained Why I can't review is tone deaf on your part.
Hi Lisa. That is great to hear! (Although, it was a gift from his lovely wife, so there were little chances he won't love it ;) ). But we are super excited to hear he loves the light. We hope he will enjoy it as much as possible.
I don't know yet.
One was a gift and I can't use mine as BBQ is covered in snow❄️❄️❄️
No worries Frank. We still appreciate you taking the time to share your thoughts with us. We hope you get the chance to use your light as soon as possible. (You know how they say: nothing can stop a grillmaster from firing up his grill ;) )
What Our Customers Say About Us
Perfect Grill Light
First off, customer service is top notch. The grill light is perfect and lights up the entire grilling area. And it is also waterproof!
Rachel P.
Enthusiastic Customer Service!
Excellent product and consistently great and enthusiastic customer service.
Eric J.