Portable BBQ Grill Basket, Stainless Steel Grilling Basket with Removable Handle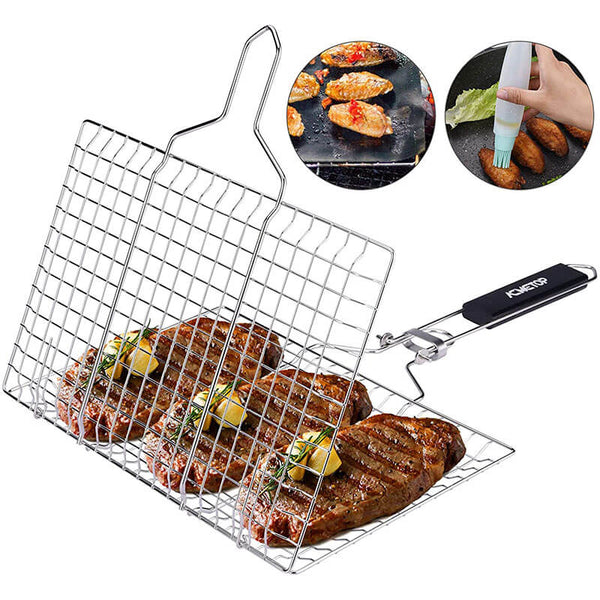 Portable BBQ Grill Basket, Stainless Steel Grilling Basket with Removable Handle
Why struggle and stress out when you can grill tranquilo, like a true God?
Make your grilling endeavors effortless with this amazing fish grill basket.
Thanks to the ultra-durable stainless steel and the heat-resistant wooden handle, this basket will allow you to grill up your vegetables, meats, or especially fish safely. Furthermore, it will not rust, no matter how many times you use it. Unlike other similar products out there.
You will no longer get yourself burned or lose morsels in the grill. After all, an angry and swearing griller does not look good. Not cool, man, not cool.
Features:
Lockable grill grate

Heat-resistant wooden handle

Durable stainless steel material

Cooking Surface: 12.6 x 8.2 inch

Sauce Bottle Brush, Non-Stick Grill Mat, and Storage Bag included
All our products ship within 24-48 hours after placing your order, from our warehouses located in the US.
We back them out with our 2-year warranty and 30-day money back guarantee and 30-day easy returns.
If you have any questions or need our assistance, please contact us at support@zeust.com or call us at 800-983-9020

What Our Customers Say About Us
Perfect Grill Light
First off, customer service is top notch. The grill light is perfect and lights up the entire grilling area. And it is also waterproof!
Rachel P.
Enthusiastic Customer Service!
Excellent product and consistently great and enthusiastic customer service.
Eric J.