Wireless Digital BBQ Meat Thermometer, Dual Probes, Long Range, Instant Read, Large Backlit Screen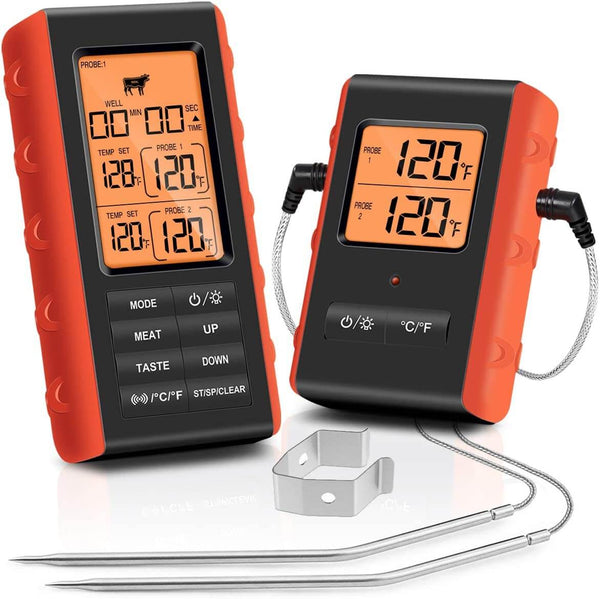 Wireless Digital BBQ Meat Thermometer, Dual Probes, Long Range, Instant Read, Large Backlit Screen
No one likes undercooked barbecued chicken or pork. And cutting the piece of meat, just to see if it's done, only wastes all those delicious juices inside the meat. 
Do you want to cook meat like a true professional? Like a real BBQ God? 
Do you want to nail the doneness of the meat each and every time?
Then this BBQ Digital meat thermometer is the tool you need. 
With its broad remote range of 328ft you can move around your house while keeping an eye on your meat in the oven/smoker or on the grill.  And if you lose track of time while playing with the kids, or enjoying the football game, no worries. You will be notified with an alarm when your target temperature or timer is hit.
The food-grade stainless steel probe provides a Fast & Precise Temperature reading. This is all thanks to the ultra-responsive sensor inside the probe tip that takes an accurate temperature in less than 3s. And with the dual probes, now you can monitor air and meat temperature or two parts of a large piece of meat simultaneously.

Setting this thing up is a breeze! it comes with easily customizable temperature settings and with 8 preset meat types plus 5 different taste options. This means that you will achieve the desired tenderness of the meat for you and your family. And the best part: all your settings will be automatically saved for next use.

And if you're worried that Stevie Wonder had better sight than you, now you can put a stop to that. The large LCD screen displays temperature and timer clearly, and thanks to the tilting stand, you have the optimum angle for fast and easy reading of the current temp and timing at a glance.
Features:
The backlight option is available for use in low-light conditions.
Works with 4 AAA batteries

Response time: 3 seconds

2 Durable Probes

Stainless steel & food-grade material.
Waterproof and temperature resistant up to 716℉ (380℃)
Free replacement probes if the probes are broken( Do not expose probes on fire)

Can monitor your food from 328FT away.

8 different meats setting and 5 selectable doneness level to choose.

All of the preset temps can be customized according to your desired tastes.

The Alarm will be beep and flash when the pre-temp and pre-time reaches.

Fast data reading in 2-3s and accurate within 1. 8°F/1°C.
All our products ship within 24-48 hours after placing your order, from our warehouses located in the US.
We back them out with our 2-year warranty and 30-day money back guarantee and 30-day easy returns.
If you have any questions or need our assistance, please contact us at support@zeust.com or call us at 800-983-9020

What Our Customers Say About Us
Perfect Grill Light
First off, customer service is top notch. The grill light is perfect and lights up the entire grilling area. And it is also waterproof!
Rachel P.
Enthusiastic Customer Service!
Excellent product and consistently great and enthusiastic customer service.
Eric J.